Spring is in full bloom, and we find our homes in need of a refresh and style update. That's why we've looked into this season's hottest trends for Spring 2023 to find you all the interior inspo you need to make your home magazine worthy! This season we found Vanilla Vibes are trending on Pinterest, Instagram, and in home magazines everywhere. Think cream neutrals, soft furnishings, curved shapes, and ambient lighting to create a calming and restorative space. Read on to find out more!
Cream Neutral Colour Schemes
One of the key components in achieving vanilla vibes in your home is to opt for a lighter colour scheme with soft tones, earthy cream-coloured painted walls are the perfect base for this trend. Complemented by a pared back palette of neutrals in the same colour group when choosing furnishings and home décor. To really encourage the essence of spring into your home by adding minimalist style house plants, or dried flower arrangement to your décor, incorporating nature into your interior.
When choosing lighting for vanilla vibe interiors, trending homes appear to opt for lights with frosted glass pieces or opal glass shades paired with a brass finish for a subtly luxe appearance. @carolines_home_style showcases that the Aubrey Frosted Glass Ceiling Pendant is the ideal fit for this style of home and features a brass finish with 3 tiers of frosted glass bars, diffusing a beautiful warm glow into the room when switched on and looking gorgeous in any living room or bedroom décor.
Get the Cloud Aesthetic
Inspired by Gen Z and Millennial interior décor trends on Instagram, the cloud aesthetic offers a nearly neutral colour palette and fits perfectly with the vanilla vibes inspiration we are seeing in the interior design world currently. Some trending pieces include abstract shaped mirrors, as well as curved shapes and lines with prints, lighting, rugs, and seating. When brough together this trend can offer a dreamy and ethereal type aesthetic that fits the Y2K style perfectly for a light and airy appearance that also enhances natural light in the day time through your windows.
There is also a décor technique called clustering which you can incorporate into this design which is where you put all your favourite items of a similar colour scheme together such as trinkets, candles, books, or vases in corners of the room or spaced out on table or side board, keeping the main areas of the room cluster free for a more spacious feel. @from_the_ground_up2021 styles the cloud aesthetic perfectly in this bedroom shot featuring our stunning Draper Ceiling Pendant in Brass on either side of her bed for a balanced and symmetrical appearance.
Softly Spoken Homes
When achieving the vanilla vibes look soft furnishings and textiles are key for a comfortable and cosy appearance. Boucle seating is incredibly on trend at the moment, along with heavy weighted natural linens combined with high quality cotton and knitted textures for a bespoke and luxurious hand-crafted feel that promotes sustainability. Padded headboards, and storage solutions also offer a gorgeous comfy vibe to the room and work well with a creamy neutral colour scheme.
@our_crispin_home gorgeously style an array of soft furnishings from their cushions to their blinds in natural earthy colour tones and finished the room off with chunky waffle bedding for that luxe touch. Ambient lighting should also always be a paramount element of design and the Ursula Ceiling Pendant adds personality and dimension to the room as it catches natural and artificial light, casting rainbows across the room as light refracts through the crystal effect prisms.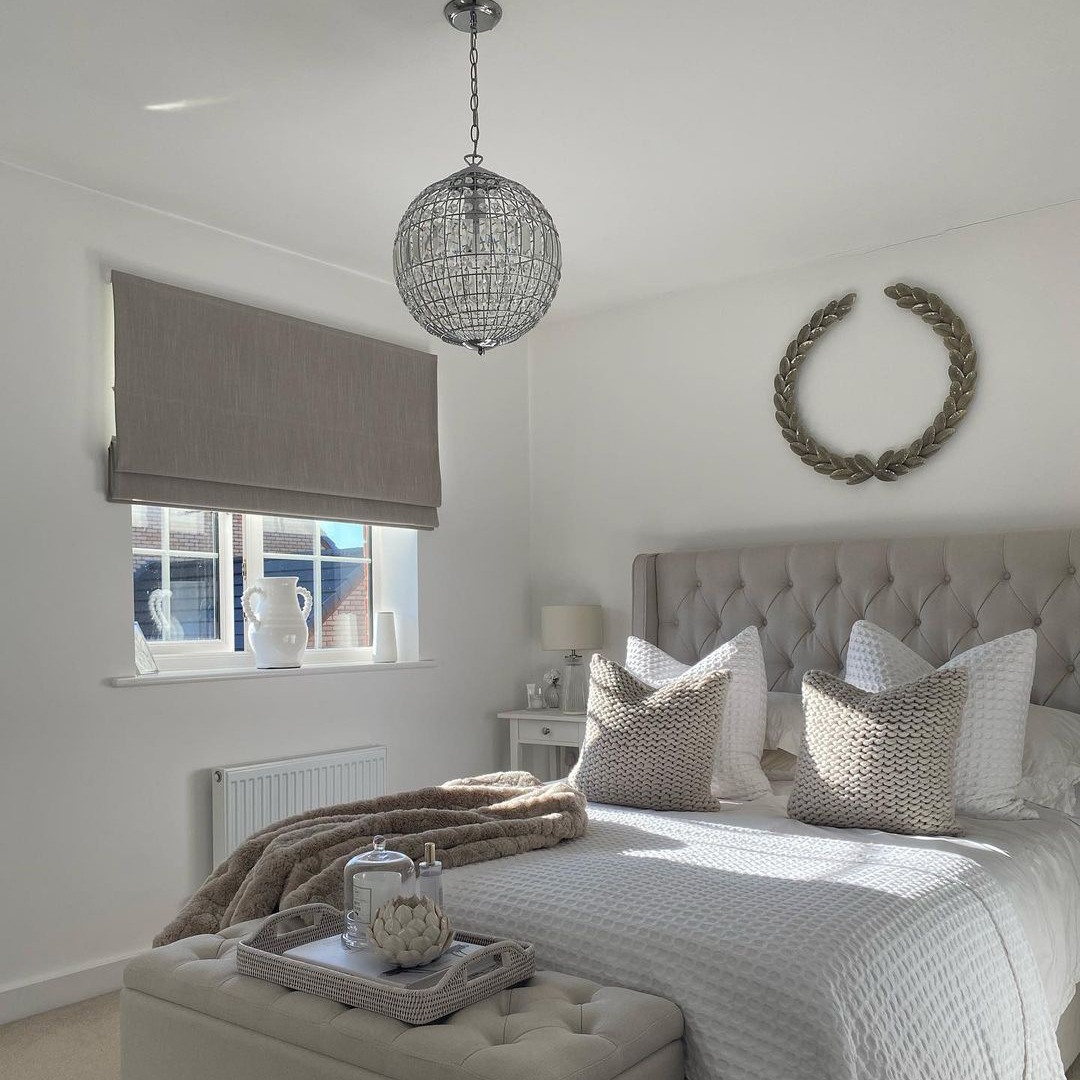 Minimaluxe Styling
Minimaluxe is the combination of minimalist styling, a common theme with vanilla vibes styling, and luxury. This means creating a space with minimal clutter while still invoking a sense of opulence and affluence. This is most easily achieved in spaces like the kitchen or bathroom as you can make a statement with the more integrated features of the room rather than relying on ornaments and accessories for that feeling of luxury.
@dartford_dream_home achieves the minimaluxe aesthetic perfectly with the vanilla colour scheme, featuring a showstopping marble kitchen island with matching countertop and backsplash. They then add the final centrepiece touch featuring 3 of our Milton Pendant Bars in satin brass for an extravagant and classy appearance, creating gorgeous reflections on the sleek kitchen island top.
Is the Vanilla Vibes Look Right for Your Home?
Whether you like minimalist décor, or just a neutral colour palettes we hope this blog has helped inspire you to freshen up your interior with this gorgeous décor trend. For more top trends why not visit our main BHS blog page for all the latest inspiration.
Alternatively head over to our Instagram @BHS_UK for stunning photography, competitions, sales, and more lighting and home décor content.