The BHS blog is back and with it comes a whole heap of interior inspiration to delve into and introduce into your home, so sit back, relax, and enjoy our hot hints and top tips!
Today's trend is one with more natural roots and a more neutral vibe – Earthy Accents! With this look, we'll be focusing on a fresher, more authentic style, so lots of deep greens and refreshing whites are a main staple of the theme; ideal for giving a more uplifting feel to your bedroom décor. We've got loads of features that you can use to create this theme, so check out our top picks below!
Bright, Bold Bedding
To start off, let's take a look at the most interchangeable, yet perhaps the most eye-catching bedroom feature – your bedding! With bedding, you get to completely put your own stamp on a décor with no risk of permanently making a choice you might live to regret. With the ability to just strip the bed and put a new set on if you aren't keen. We doubt that'll be an issue once you've taken a look at our greenery inspired print sets, with their great detail and fresh, inspiring vibe making any bedroom a truly uplifting space, with a few variations available to suit any décor's style. Kicking off proceedings is the Herbal bedding set, available in 4 sizes to accommodate the smallest to the largest of beds. This white set has a huge foliage print, which is accompanied by a soft blush pink hue for a subtle modern hint that steers towards a Scandi style interior.
Alternatively, the Herbarium bedding set has a more refined, quirky feel that brings character to your bedrooms décor, with an arrangement of small, individual botanicals giving a more subtle greenery effect. Click here to check out the set in more detail!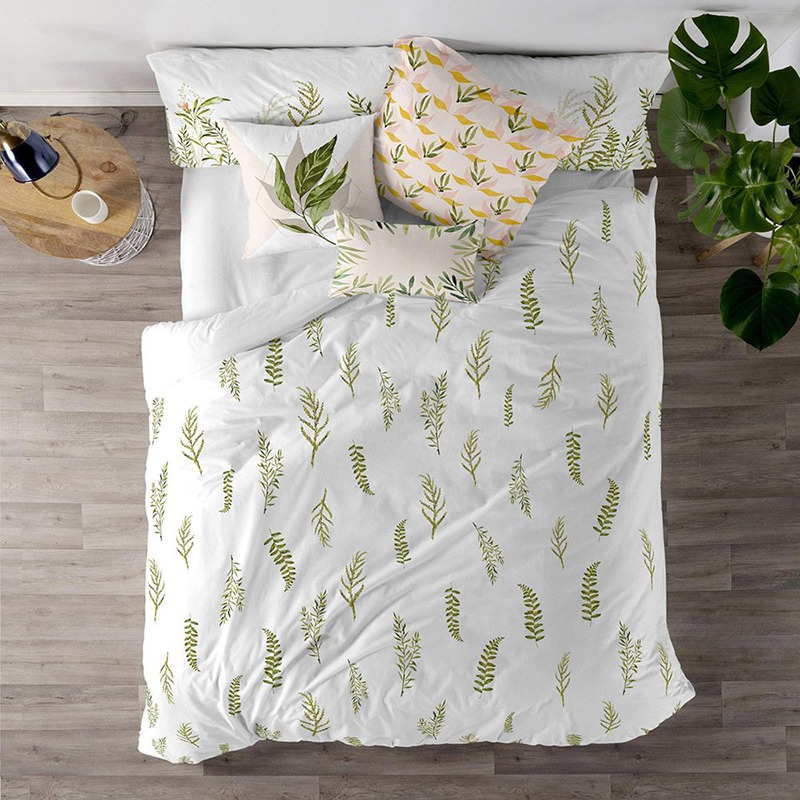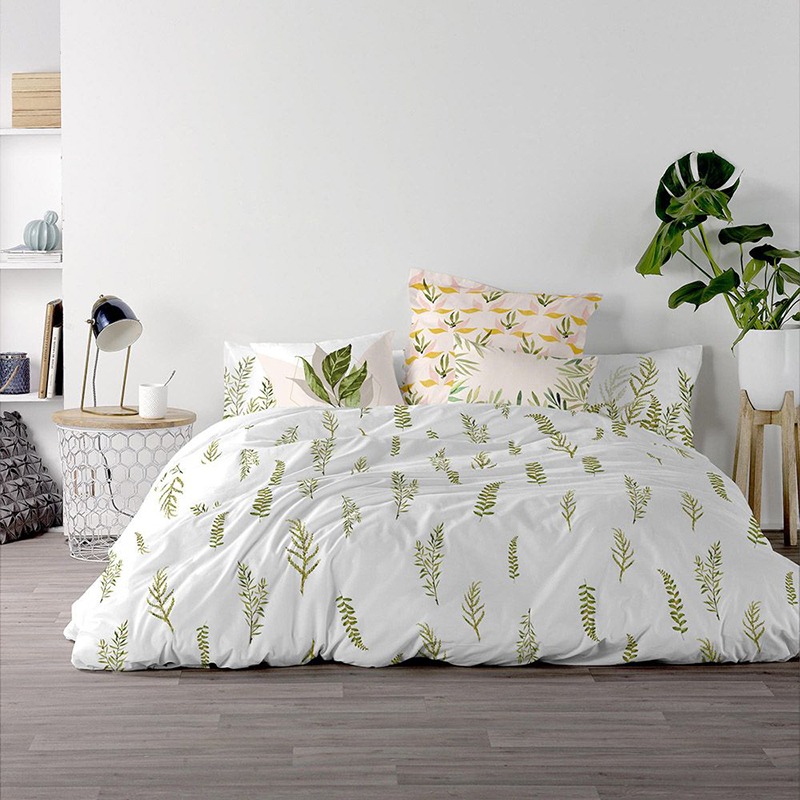 Simple Statement Ceiling Lights
With ceiling lights you get a wide, practical spread of lighting as well as a stylish centrepiece for your interiors, so they're really important fittings that you need to get right. We've picked two fittings that are perfect for this earthy theme, but which each have their own unique style, so you've got different routes to take when you're designing the décor – the Felix Ceiling Pendant and the Jet Rattan Easyfit Shade!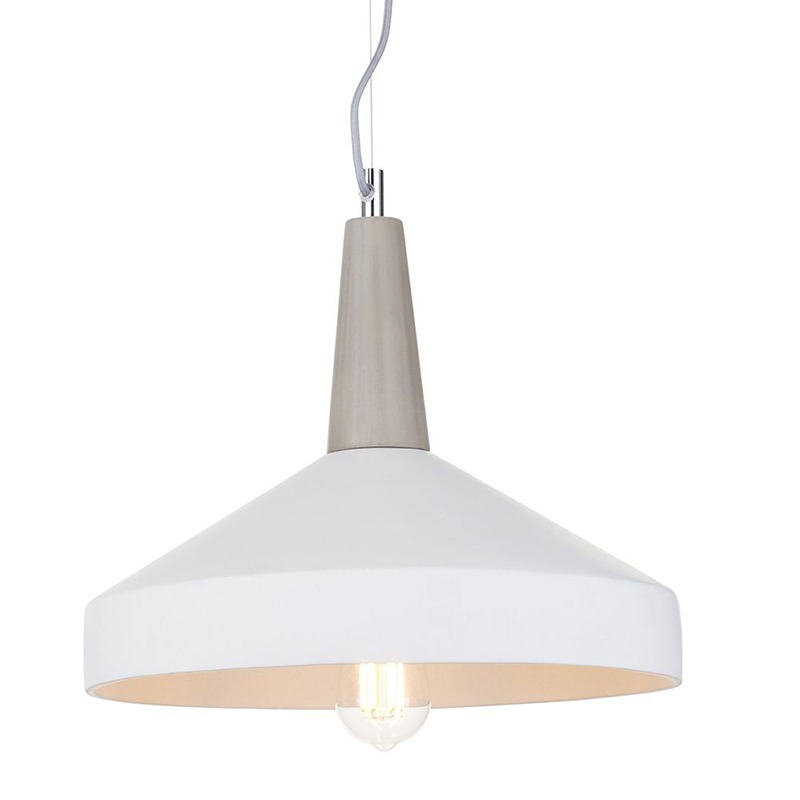 The Felix pendant is a great balance between bold and simplistic, with the combination of natural tones giving a neutral vibe to the piece. Felix will look great over your bed or as a central feature for your bedroom décor, so there are variations in how you can utilise the fitting. We suggest this fitting if you're going for a modern take on the earthy theme.
Jet Rattan Easyfit Shade
If you're looking for a quicker, less permanent change to your ceiling lighting, the Jet rattan shade is a brilliant choice, giving a raw, natural vibe to your décor without requiring any electrical work – simply attach the shade to your existing light fitting and you're good to go! Finished in black, the Jet wicker rattan shade has a unique style and is sure to give a more decorative edge to your interior.
Alternative Bedding Styles
We think that our Herbal and Herbarium bedding sets from earlier on are great choices for an earth accent décor style, but we understand that these might not be the right fit for your own specific interiors. So, if you're still looking for bedding to complete your bedroom designs, why not take a look at the Fern bedding sets by BHS.com, which maintain a foliage theme, but with a darker, more urban feel thanks to the black background colour. The mixture of deep green colours that this bedding set features gives a fresh, modern edge to your bedrooms décor, so you can be sure you're bringing an on-trend style into your home.
Ambient Lamps – Big or Small
One of the most popular features for giving ambient light to an interior is lamps, whether that be floor or table, as their soft glow and versatile designs can help to give a more relaxed feel to any space that they're used in. This makes them a perfect fit for the bedroom, where you'll be looking to create an environment that's tailor-made to drift off to sleep in at the end of the day, so you'll want to have an atmosphere that helps you to unwind with ease.
Josiah Table Lamp
If you decide to go with a table lamp in your earthy-inspired décor, Josiah is a definite contender – the natural materials and retro style structure look great in any bedroom, whilst the white drum shade will give soft diffusion to the light for a calming, relaxing atmosphere. The concrete and wood body has a simple, yet stylish look, adding unique material to your bedrooms designs.
Our floor lamp of choice is the Neo floor lamp in white, which has a bright, simplistic look that's perfect for giving a more upbeat tone to your bedroom décor, in turn helping the space to be a more productive area. This floor lamp is a great space filling piece, offering a stylish image to those empty corners, with an adjustable task lamp style head allowing you to direct the light for a more purposeful effect. This is great for placing next to an armchair, giving an ideal glow for unwinding whilst reading a book!
More From The British Home Store Blog
If you've found our pointers for earthy accents in the bedroom helpful, be sure to let us know in the comments below, or, if you've decided that this trend isn't really for you, take another look at the BHS blog at www.BHS.com/Blog where we'll be giving regular updates on all of the latest interior trends!