Autumn is in full bloom (well, lack thereof), and the mood in our homes is shifting. Say goodbye to the bright and breezy interiors, farewell to the golden hour sun beaming through our windows and cheerio to the neutral décor, because this Autumn we're switching things up!
Autumn Tones
Green may be fading from our trees, but it has found a new home on our walls. The conventional Autumn colour scheme of varying oranges and reds has passed – making way for cooler colours. Forest green, deep blues and lavish plum shades may be a daring choice, but we assure you that once you try them, you'll never go back. Top tip: use a darker shade (such as those mentioned above) on your most prominent wall within a room. A statement wall is a great way to pull focus and create a far cosier atmosphere in your home. And contrary to popular belief, darker walls don't make the space feel small, they allow the lighter tones to shine through – creating a spacious feeling.
However, if you're a fan of the warmer hints, don't worry ! The conventional tones are still perfect for decorating your space. Burnt orange is a great complementary colour against green, so get creative with your décor. Decorative ornaments, throws, blankets and pillows can all be incorporated into your room easily, bringing with them the warm tones to capture the cosy essences. If you've opted for a bold, blue wall, a softer yellow makes for the perfect complementary colour. And for blush walls, it's all about the metallics. Gold, brass, bronze – any warm-toned metal will make the difference.
One way of incorporating metallic tones into your colour scheme is through lighting. For instance, take a look at our Benson Curved Floor Lamp. The luxurious copper floor lamp has a rich warmth and a subtle glimmer – complementing the cool tones spectacularly.
Layering Textures
Just like colour, texture is an important part of transforming your home this Autumn. More importantly, layering textures. Soft, faux fur blankets, chunky knit throws and velvet hints are all great accents to your eclectic décor, and incorporating these into your room can take your home interiors to new heights.
Textured lighting is a huge trend at the moment, with macrame, ratan and jute all dominating the interior décor scene. But eclectic décor requires a much more luxurious touch, and that's why velvet is the ideal choice. Soft velvet details add a glamorous hint to your interiors, with a light shimmer and comfortable touch bound to add a relaxed aesthetic to your home.
Our Taylor Velvet Lamp in ochre and brass is the perfect mood light for your room. The yellow lampshade contrasts the cool-toned colours, adding a vibrant pop of colour to any space. The warm light within illuminates the room with a soft, gentle glow – ideal for your living room side tables or bedside tables while winding down with your favourite book at the end of the day. Even better, you can also pair this colourful table lamp with the matching ceiling light shade!
Our Autumn Lighting Top Picks
To make your Autumn home revamp easier, we've curated a selection of the best ceiling lights that are sure to add opulence to your home interior.
Of course, we had to mention a chandelier, and what chandelier is better than the Paisley Flush Chandelier in antique brass. This brass chandelier encompasses the Autumn style perfectly with its decorative feathered design. The darker tones blend with the light highlights for a ceiling light that guarantees to create a statement within your room. And what chandelier is complete without some crystal effect droplets?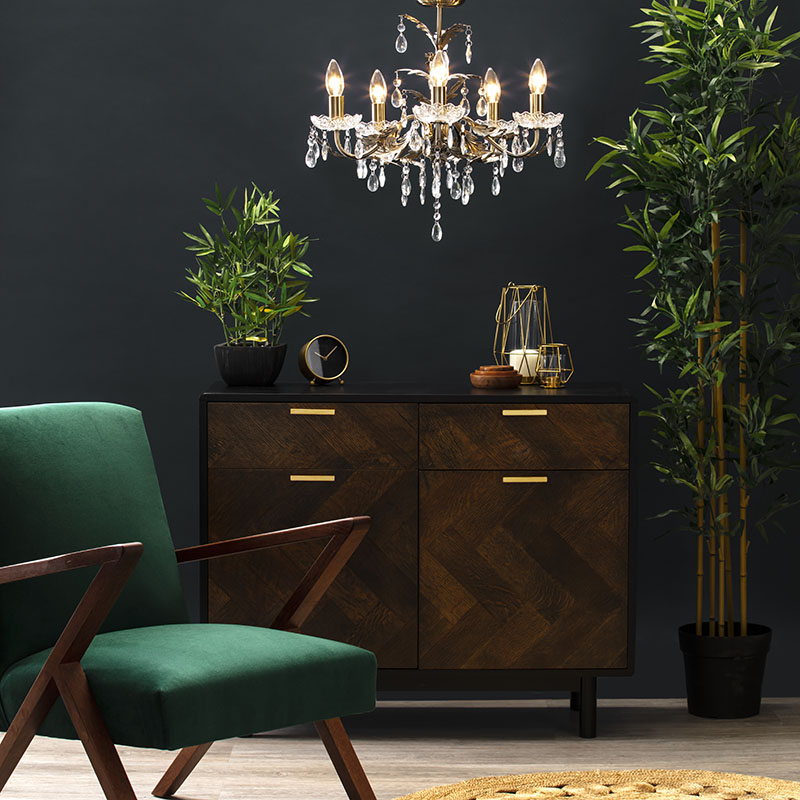 Capture the Autumnal tones in your dining room with our Carmella Diner Ceiling Pendant Bar. The copper finish works wonderfully with the clear glass shades to create a contemporary style unlike any other. And to make sure it catches your attention; this stylish ceiling pendant features 12 lights!
You Saw It Here First…
Psst. We have a surprise for you! Now that you're excited for the Autumn season, we're giving you an exclusive first look at our brand new lighting coming very soon!
Introducing our animal lighting collection. From snake lighting to monkey lamps, this unique selection of lighting is sure to inspire an eclectic look in your home. Animal lamps are the perfect ornamental additions to decorate your rooms, and they will be available in our New In section very soon. Make sure to keep your eyes peeled for the drop! If you're an animal lover, you won't want to miss out on these opulent decorative lights.
Enjoy Your Autumn In Style
Thank you for reading! We hope to have inspired your creativity this Autumn and to have provided you with some great tips that you can take away and incorporate into your home. For more excellent lighting recommendations on many different styles and trends, take a look at the BHS Blog.
Make sure you head over to our social media to keep up to date with the latest BHS offers and sales, as well as to keep informed about new product releases and restocks.