Year by year, we interior lovers eagerly await the colour of the year announcement, and this year we couldn't be happier. So, what is the colour of the year? Well, it's official, Pantone has announced that 2022's colour is periwinkle! Like us, you probably have lots of questions about this interesting choice but fear not, as we have your guide to all things periwinkle below.
Your guide to periwinkle
Periwinkle is a unique colour that beautifully blends tones of baby blue with a luscious lavender – combining the strong blue notes with a slightly softer edge. Colours with a pastel finish always seem intimidatingly niche, but you would be surprised just how easy it is to incorporate periwinkle into your interior décor.
Let's start with the decorative additions. It can be as simple as a gorgeous periwinkle vase in the centre of your dining table, a cosy periwinkle throw blanket draped over the arm of your sofa or even just a periwinkle mug sat on the coffee table. Although these may just be small changes, they can really make a colour pop in your room.
If making a statement is your thing, then the perfect way of bringing the colour of the year to your home is through a bold accent wall. Accent walls are a great way of personalising your room with a unique statement look. A periwinkle wall would be ideal for any living room or bedroom with its softer, more comforting aesthetic that would easily soothe and relax your mood as you cosy up at the end of the day.
Blue, blue and more blue
With periwinkle being the new colour of the year for 2022, there's no better time to experiment with blue in your home. In 2021, blue became all the rage, and it shows no signs of slowing down this year. Whether statement blue walls are your thing or perhaps a touch of royal blue throughout your décor, you have to jump on this home interior bandwagon this year.
When it comes to styling blue in your rooms, it's easy to start the renovation with your lighting. Lighting makes a huge difference to any room and that's why it's the perfect starting base when turning your home blue. From ceiling pendants to bedside table lighting, we have a huge variety of lighting in a range of finishes to achieve an eclectic style.
To begin with, try a table lamp. Our Velvet Table Lamp in navy and brass is ideal for this, with a striking blue shade that is beautifully accentuated by the warm pop of brass. The gentle light from within softly glows to provide the perfect mood light for any living room side tables, or perhaps your bedside tables.
If you're looking to make a splash with blue, however, our brand new animal lighting ranges are a great choice. Fred the Boston Terrier Table Lamp has a deep navy finish that gorgeously shimmers as the light illuminates the luscious, velvet material. Or perhaps you'll take a liking to the Harry Horse Table Lamp with Navy Shade. The sleek, black base features a stunning horse head holding the eclectic navy blue shade. Animal lights offer a fabulous opportunity to sprinkle more personality into your home décor, as well as follow the latest interior trends for a stylish home.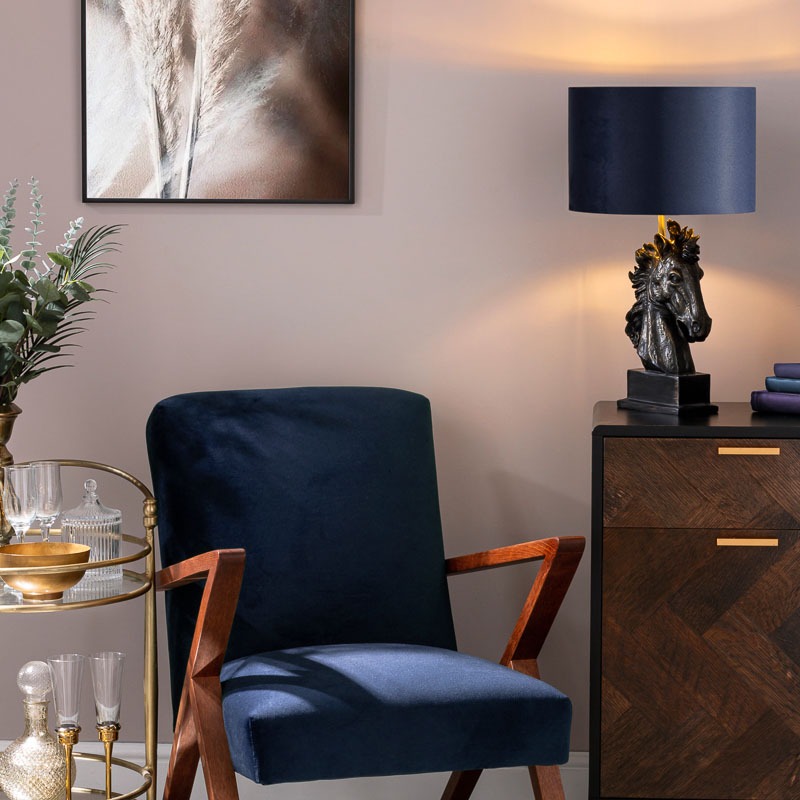 A change in tone
As we mentioned earlier, dark blue décor took off enormously in 2021. While the trend is still hugely popular, you may be wanting something a little different, and we know the perfect thing! Pantone may have named Periwinkle as the colour of the year, but others favour a much lighter blue tone. Like a clear sky in Summer, a light blue really brightens your room with a soft and delicate aesthetic.
Luckily, we've got the perfect lighting to match. Check out our Large Velvet Easyfit Shade in teal and brass. The bright shade adds a colourful pop of colour to your room as the light within proficiently illuminates your interior. Style this among your light blue décor for a stylish flair in your home.
Fred Boston Terrier Table Lamp Navy
Embrace the change this new year
Periwinkle symbolises big changes, so why not embrace the change in your home this year? Whether you start small or aim for a full renovation, a change of atmosphere is most welcome as we enter this new time. Remember to come back here and check out the BHS blog for more up to date style news and advice to keep up with the latest industry trends. You can also follow us on all social media platforms for regular updates on products as well as the best stylish and design advice for your interiors. Make sure you tag us in all shared social media imagery for the chance to be featured on our feed, in our newsletters and even in our blogs!