Image Credit: @nudeandthenovice
Originating in the late 1960s all the way through to 1990, Postmodern décor has made a come back in the world of interior design, creating fun and playful Insta-worthy spaces that are guaranteed to make your interior stand out from the crowd. Inspired by the Bohemian period in the 1950s, Postmodern became popular in the new era of free thinking and creative expression in art, incorporating pop culture into design. Read on to see how you add an artsy touch of Postmodern design into your home this autumn.
Postmodern Materials
Postmodern interior design is best known for being visually and texturally extravagant, blending an array of unconventional materials together to create an exciting and complex aesthetic. Think Plaster-look walls, terrazzo accents and brass finishes, allowing for a space full of energy and life.
Take a look at our gorgeous Forella Terrazzo Table Lamp, this quirky accent lamp has the ability to bring character to any room, looking perfect when styled in pairs on bedside tables. The brass finish is beautifully complemented by a terrazzo base and two opal glass spherical shades in varying sizes, offering a unique flare to your décor.
 Now introducing our fabulous matching Forella Floor lamp, coming soon to the BHS website, bringing a statement look to your living room or bedroom.
Flashy Furnishings
Bold shapes and curved lines instantly make a room feel more Postmodern. Some of our top picks for furnishings include bubble chairs, velvet ottomans and rounded sofas. It's also important to note that low seated furniture with short legs is also key to achieving that Postmodernism aesthetic, keeping tubular and spherical shapes running throughout your décor.
Our Cleveland Cluster Pendant is ideal for blending with eclectic and post-modern furnishings, giving an eye-catching appearance with 7 gorgeous pendant lights.
Retro patterns
Bringing you an array of retro inspired patterns and colours, BHS features a fantastic selection of easyfit lampshades that are guaranteed to fit with this design trend. Offering a playful feel to your décor, bright colours and unique patterns can inspire a very 70s appearance to your home.
Pair this with matching accents throughout the room, such as this burnt orange cushion gorgeously complements our 30cm Wave Easyfit Shade in the same colour. Alternatively, take the opposite approach entirely and pair with accent colours on the opposite end of the spectrum, such as green furniture and plants for a bolder look that is equally stylish.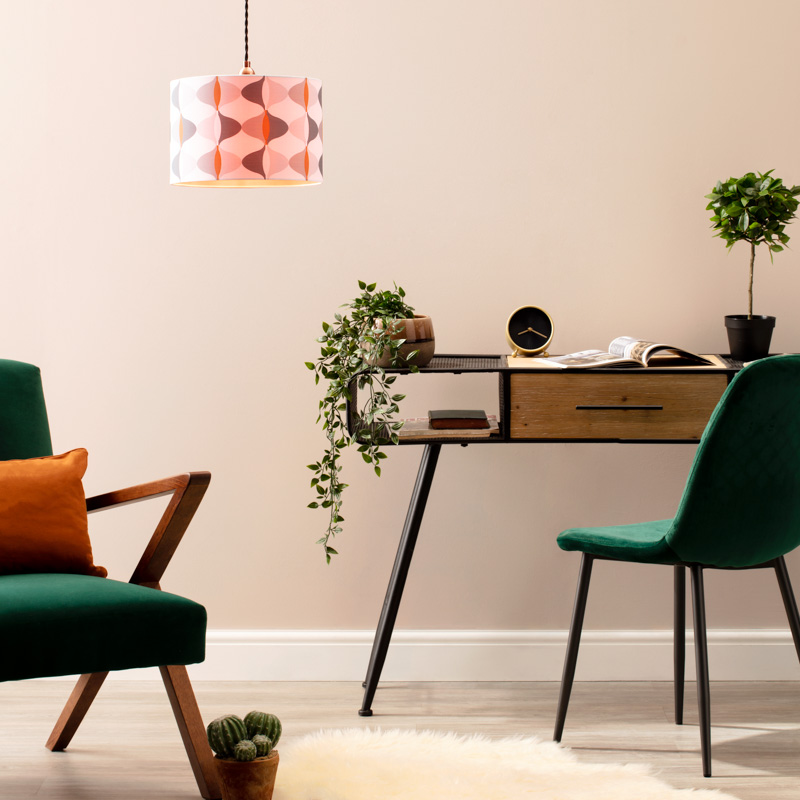 Eclectic Colour Combinations
Pink and Green should always be seen. Some of our personal favourite colour combinations for this trend include pink and green, and yellow and blue. Contrasting colours can look surprisingly stylish when achieving this trend, offering an eclectic and vintage appearance that shows you aren't shy with your design choices.
A number of ways you could choose to style distinct colours might include painting the ceiling a darker colour than your walls, having a singular accent wall, painting your banister, door or windowsill a bright colour, or even painting the wall half and half with contrasting colours.
Image Credit: @sharnshouse
Postmodern Vibes - Check
Whether you prefer a subtle pop of colour or want to go for the full 70s look, we hope this blog has inspired you to show your artsy side with your home décor this Autumn with the quirky postmodern décor trend.
At BHS we love to share your tagged photos on our blogs, newsletters and socials so don't forget to follow us @BHS_UK across socials and sign up to our email newsletter. For more interior trends and all the latest in design, head to our main blog page and see what catches your eye.