With spring now upon us, the warmer weather coming, and the days becoming longer. More and more people are spending time relaxing outside. This has meant there has been a vast increase of people looking for ways to improve their garden spaces and create the paradise they desire.
Not many people realise, but outdoor lighting is the key to really transforming your garden space. Surprisingly, most of the time outdoor lights are the one thing that gets overlooked when planning a garden revamp!
Not only can lighting your garden be a great for safety and security reasons. Outdoor lighting can bring an atmospheric feel and create ambiance within your garden space. Allowing you to create stylish and attractive outdoor areas.
With so many options to choose from, finding your perfect garden lights has never been easier. Whether you are looking for a motion sensor light, outdoor wall light, outdoor post light or you're looking for a way to keep warm as the days end. We have all your needs covered in one place.
Motion Sensor Lights or PIR Sensors
These are a great safety & security feature to add to your garden and property. The motion sensor triggers the light to come on when it detects movement. This is a great way to protect your home. Conveniently, with motion sensor lights you will also never have the worry of not being able to see your way in the dark.  
Our Orion twin LED spotlight with a PIR sensor, pictured below, would be a perfect addition to any home.
Outdoor Wall Lights
These are a great feature for anyone who loves the outdoors. Having a few outdoor lights dotted around your garden can really give you that piece of tranquillity that we all crave. Allowing you to extend your time outside long into the night. Whether it's a late-night BBQ or the kids just aren't ready to end their day. Exterior wall lights are the convenience you never knew you needed.
Our Walker outdoor fisherman-style wall lights are a great way to add light to your garden. The lantern design gives a real stylish & contemporary feel to any outdoor space.
Outdoor Post Lights or Pedestal Lights
These lights can offer a way to light even the biggest of gardens, using a large post lamp can vastly improve the vision across the whole garden. Whilst the smaller designs can be used alongside driveways to ensure full vision from the illuminating glow the lights give off.  The clean-cut design means that post lights and pedestal lights can usually be placed on any flat land around your garden or driveway. Using post lights or pedestals in your outdoor space can really give you a sophisticated and timeless look.
Our Ferris outdoor polycarbonate post lights come in both short and tall designs. The tall design also comes with 2 x 40mm extendable poles to adjust the height as required.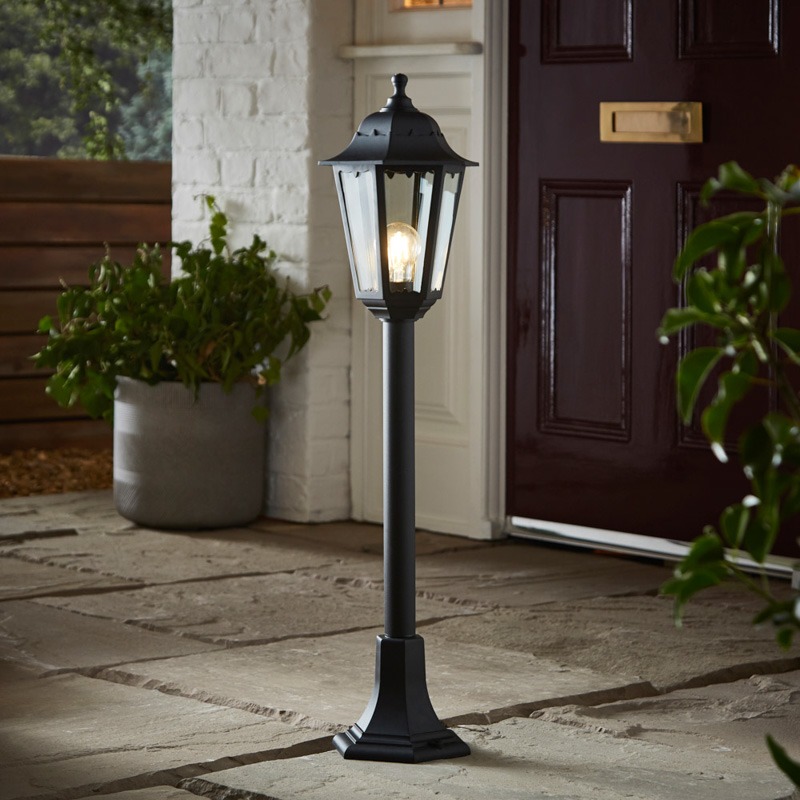 Outdoor Heating 
This is a great way to ensure you can use your outdoor space to its full potential. By using a patio or outdoor heater in your garden, you can really keep going late into the night without letting the cold chase you back inside, as well as maximising your outdoor time even when the nice weather disappears. There is still a lot of misconception regarding the cost of outdoor heaters. It is 2022 after all, virtually all electric heaters are now eco-friendly. They are also a lot quieter and cheaper to run than gas heaters, as well as giving off around 90% less Co2 emissions. What is not to love about that?
Our 1200 Watt free-standing outdoor radiant heater is conveniently sized to be able to be moved as required. The small but powerful heating element boasts a very decent 4-meter distribution radius. This means you nor none of your guests should be missing that heat.
We hope this blog has helped you gain some inspiration for your garden / outdoor space this Spring. Whether you're hosting a large garden party or just chilling out back reading a book. Investing in some lighting for your outdoor space is something not to be missed. All our outdoor lights from BHS come with a minimum IP44 rating, meaning they are weather-proof and are suitable for all your needs.
 For more up-to-date tips, why not head over to our BHS blog and browse our selection of great reads. Alternatively, you can check out the whole range of outdoor lights here.
If this blog has inspired, you to pick up some new exterior lighting for your space. Why not, get you and your garden featured on our feed, stories, and Instagram Guide? All you need to do is make sure you tag us in all gorgeous pictures of your gardens on social media with @bhs_uk and use #BHSLights!