With springtime almost in bloom, we're hoping to leave the cold weather behind us and welcome a warmer, lighter season into our homes. Inspired by the Pantone colours of the year, Ultimate Grey and Illuminating Yellow, BHS is here to help you rejuvenate your home for a picture-perfect look across your décor, in the spirit of the new season.
Many homeowners look to the chosen Pantone colours of the year for inspiration when decorating their households, the beauty of these is that they can be interpreted in any way that's personal to you. This year we believe that the colours perfectly capture the essence of spring with the greys of April showers and the gorgeous yellows of blooming daffodils.
Spruce up your lighting arrangements and encourage positivity in your household with this bold option. Reminiscent of the rays of sun that stream through your window on a spring morning, the Velvet Easyfit Shade in Ochre and Brass features a stunning brass lining that beautifully complements a vibrant yellow finish. This simple yet stylish lamp shade can easily be placed onto any pre-existing light fitting, offering an uplifting transformation to a room in an instant.
Our Morlie Task Floor Lamp is perfect for modern homes that are trying to incorporate the Ultimate Grey look with their furnishings. With a chic satin brass base and an adjustable head, this floor lamp provides a focused and directional light while looking incredibly on trend. Why not position this light over a sofa or an armchair for a soft illumination while reading a book or magazine?
The spring aesthetic can breathe a breath of fresh air into your home. This 30cm Diamond Easyfit Shade is sure to give any room a revitalised look, livening up your interior with a gorgeous light-grey geometric pattern. Neutral and monotone hues, like this cool grey tone, create a light and airy appearance as they are less vivid in colour than other, brighter shades, perfectly highlighting a bold, illuminating yellow accent.
Pair this shade with a sunny yellow décor accent on your side table or drawer with our Ochre Mira Touch Stick Table Lamp. This delightful, small table light has an understated, minimalist design but offers a vivid pop of colour to your surroundings. It also features modern touch technology, allowing you to turn the light on and off with the touch of a finger for maximum practicality. This yellow lamp looks fantastic in any living room or bedroom and is guaranteed to brighten up any space it's placed in.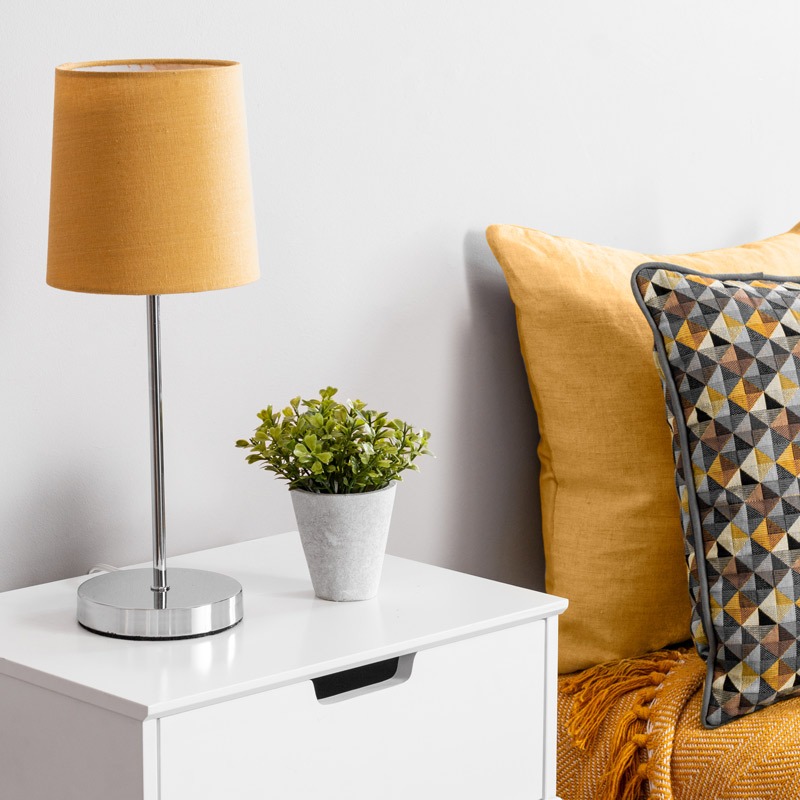 Add some zest to your bathroom space with stylish washroom accessories such as these 6 Piece Cord Towel Bales.Available in both sorbet and dark grey for you to tailor the Pantone colours to your individual taste, these soft luxurious towels are super-absorbent and made of 100% cotton for maximum comfort. Our towel bales feature 2 hand towels, 2 face cloths and 2 bath towels, looking fantastic as a matching set in your bathroom.
Decorating your indoor spaces this spring can help warm up your interior as we wait for the summer weather. This Plume Feather Tripod Table Lamp has a gorgeous plethora of white feathers that diffuse a warm glow into the room for a relaxing, ambient feel. The lamp also features quirky tripod legs in a beautiful brass finish, offering a gorgeous metallic accent to you home décor.
We hope this blog has put a spring in your step and spurred you to breathe new life into your home this season. We certainly enjoyed styling our studio in the Pantone colours of the year, and if you're feeling the spring fever, we have a wider range of yellow and grey ceiling lights for you to choose from when you browse our celing lighting.
For more styling tips and tricks to brighten up your home this 2021 keep an eye on the blog section and follow our socials for updates on our latest products and promotions. Don't forget to use the hashtag #BHSLighting or tag us @bhs_uk when you post any pictures of our lighting for a chance to feature in one of our posts!