Since the lightbulb was invented by Thomas Edison in 1880, scientists have spent the next 142 years researching the impact lightbulbs can have on a human being's mental wellbeing. Studies have shown that lighting affects, biological, mental, and emotional factors that ultimately contribute to the overall mental well-being of a person. Through light therapy studies, it has become increasingly evident that different intensities of light release different hormones from the body which in turn can affect how we feel and act. Maintaining adequate lighting will improve mood and energy levels while having poor lighting will increase your feeling of depression.
By learning and understanding the health effects that are associated with lighting, you can ensure you are designing a home or workspace, that promotes positivity and enhances the mental state of all people who enter that space.
Of course, depending on the place or situation, not all lighting will be the same. If you are looking for adequate lighting for a work office, in this instance you would be looking to avoid any kind of fluorescent lighting. The brightness of this type of lighting is proven to cause eyestrain and migraines. Whereas using LED lighting and enhancing the use of natural light around a workspace is proven to increase productivity by helping you focus and even makes you generally feel happier in yourself.
However, when we try to apply this to our home lives, this can prove to be a little more difficult to get that lighting just right. Especially as you would want different lighting for different rooms as well as times of the day. Considering the colour temperature of your lighting when you purchase is one way to create a positive home space. Not many people realise it, but the temperature of colour can have a massive impact on how we feel, this is done by the way we as humans interpret the hues.
The colour chart shown above shows the different types of colour temperatures that we have. This ranges from an orange, flame-like colour down to a dull yellow, then white which then ranges up to a sky-blue colour. The difference in the type of colour bulb used is ultimately what will affect your mood overall. Most lighting with adjustable temperature settings ranges from 3000k-6000k. The yellowish colour that you see from a 3000k bulb (warm white) will give you a feeling of relaxation, this colour tricks the mind into thinking it's sunset or sunrise which for most people is a calm and relaxed part of the day. This colour adds cosiness to a space and is perfect lighting for hallways and living rooms. Increasing the colour temperature to 4000k will provide a brighter white colour lighting, perfect for illuminating Kitchens, bathrooms, and garages where more lighting is usually required to complete tasks also not forgetting that adequate lighting in your kitchen is another way to stimulate your appetite helping you eat better in the long term. Exceptionally good for helping little people who may have food issues. 5000k lights are typically referred to as a daylight colour, this type of lighting is more suited to offices and workshops and sometimes bathrooms if bright lighting is a requirement. 6000k is defined as a bright light; this type of lighting is what is normally used around hospitals and dental surgeries where a bright light is needed to complete tasks rather than used for home lighting.
By setting yourself up with home lighting with adjustable temperature settings, you can be sure to get the lighting just right in your home. Remember, though a high colour temperature will release serotonin, increasing your mood and energy levels, a low colour temperature will release melatonin which will help you relax and unwind, preparing you for sleep.
Our Nate Fixed Fire Rated LED IP65 downlights are a perfect option for this. With the adjustable colour temperature and being available in 7 finishes, we are certain we have the right colour to complete your look. Giving you energy-efficient lighting that is set to your exact preference.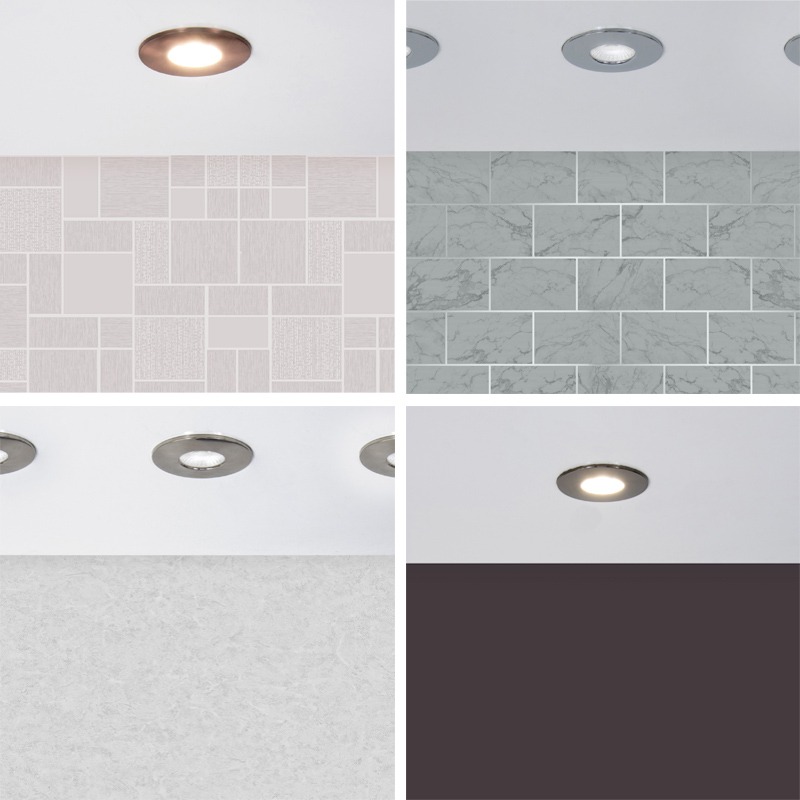 Having adjustable lighting in your home and adjusting it throughout the day is also a great way to ensure you are boosting your ability to remain alert and active when needed but also allowing you to relax and unwind in the evening and prepare your body for sleep. One of the big benefits of artificial lighting (the light bulb) is the ability to generate any colour of lighting that we desire. With this ability, we can enhance the aesthetic of a space by altering how we interpret it.
By using colour-changing lights we can alter the aesthetic quite easily. Changing the colours to suit the mood of the room or by encouraging a certain type of feeling by setting the mood in advance. Different colours will send different signals to the brain encouraging different types of feeling to surface. Below are some examples of feelings associated with colours: -
Red – gives feelings of love, passion, and intensity, Blue – gives feelings of calmness but can also encourage sadness if the atmosphere allows, Green – gives a feeling of nature and wealth, Yellow – makes you feel cheerful and can be a really stimulating colour, Orange – this can give you feelings of excitement, Purple – is the colour of pride and loyalty, Black – this colour usually signifies negative thoughts, death and fear but can also be a colour of power, White – give a sense of purity, freshness, cleanliness, and innocence.
Having lighting that can incorporate these colours into your home is one way to ensure you are taking note of the effects your home lighting can have and actively using it to keep your mood and mental well-being on top form as much as possible.
Here at BHS, we have both internal and external lights that have adjustable settings allowing you to control the light colours and settings with ease. The Renzo Colour Changing range comes in both table lamps and ceiling lights.
Head over to our TikTok to see just how stunning the colour-changing lamp really is, Renzo Video
As well as The Romero Outdoor Colour Changing LED Up and Down Wall Light. This is a great way to keep the positive aesthetic even when enjoying your outdoor areas. While also acts as a safety feature ensuring you can see clearly even once the daylight has faded.
We hope that this blog has helped you gain some new knowledge regarding your lighting and helps you to bring and keep a more positive atmosphere in your home.
For more up-to-date tips, why not head over to our BHS blog and browse our selection of great reads. Alternatively, you can check out the whole range of lights by heading to our homepage.
If this blog has inspired, you to pick up some new internal and/or external lighting for your space. Why not, get your home or your garden featured on our Twitter, Instagram, or Facebook. All you need to do is make sure you tag us in all your gorgeous pictures of your home and gardens on social media with @bhs_uk and use #BHSLights!