Creating focal points throughout your home is one of the top ways to make your interior look more expensive. In this blog we share all of best tips on how to use lighting design as a focal point in your home, showcasing your home décor by highlighting and illuminating it beautifully. Read on to find out more about our favourite looks.
Shine the Spotlight on Artwork
If you have feature points on your walls such as photographs, artwork, or prints, spotlights are the perfect choice for your home. Highlighting this wall art with lighting can help create an opulent aesthetic, making the most of these treasured pieces and making them stand out even more.
Lots of different lighting styles work to illuminate prints like this, such as adjustable spotlights, these can be in singular form, or in the form of a spotlight bar or plate. The adjustable spotlight head allows you to shine light in any direction of your choosing, making for the perfect task light. You can also opt for recessed tiltable downlights, these offer a more minimalist appearance that is engrained into your interior, also offering directional lighting.
One of our top picks for spotlighting is the Lucas Ceiling Spotlight Plate. This light is finished in a high shine black chrome with industrial style spotlight heads which feature a mechanical design, inspiring a stunning urban aesthetic in your household.
Alternatively, you could opt for wall lights, these could come in the form of matching wall lights on either side of the focus point, or a picture light to go above the frame. Our picture wall lights come with pull cord strings to make them easily accessible and look ideal when casting a beautiful glow downwards across your wall, giving the aesthetic and the elegance of a gallery wall.
Our picture lighting is also IP44 rated, meaning you can also put them over a bathroom mirror for a decorative touch as they are water resistant against water splashes, dampness, and condensation.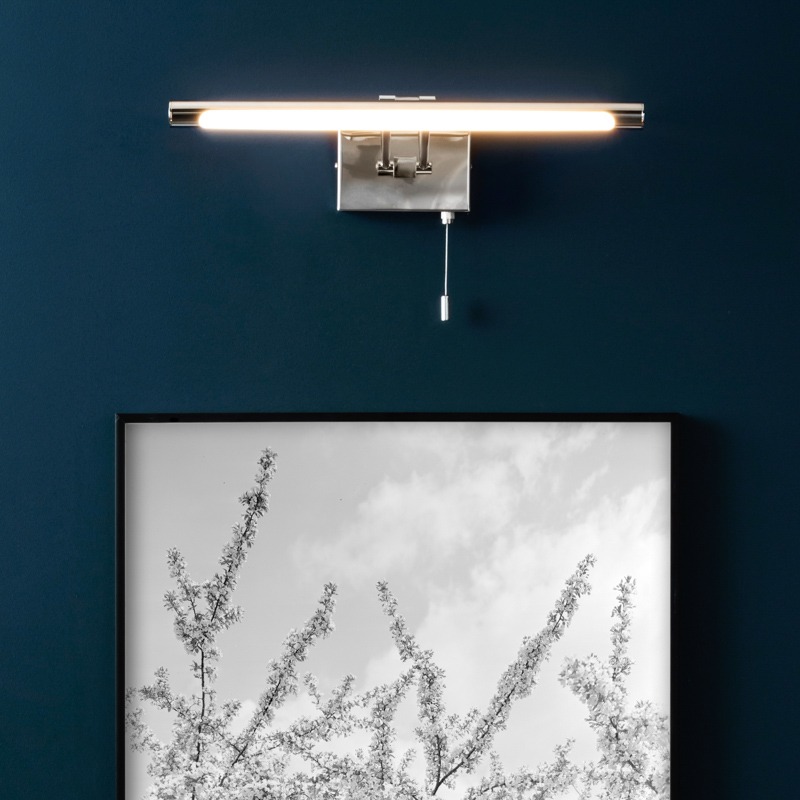 Make a Splash in the Bathroom
Having an immaculate bathroom is usually the pride and joy of every household as it is the one place where a luxurious feel really makes a difference. By styling a chandelier in your bathroom you can be sure to draw the eye over the bathtub and create a central feeling for a sense of grandeur in the room. This adds an expensive touch to the décor for that glamorous spa-like feeling while you soak in the tub or do you skin care routine.
The Annalee 5 Light Large Chandelier features a curving chrome frame and is decorated in crystal effect droplets and beading, with gorgeous glass sconces. This chandelier is guaranteed to inspire a contemporary look in your home and is IP44 rated to ensure that it is safe to use in the bathroom.
The Bedside Lighting Trend
The bedside lighting trend has taken the interior design world by storm lately with all the top interior designers and renovators opting for bedside wall lights or bedside pendant lights opposed to the classic bedside table lamps. This is a genius lighting solution as it frees up the space on your bedside table and creates a bespoke appearance. By styling one light on either side of the bed you can also create a symmetrical appearance for a feeling of balance in the room with the bed or headboard being the centre piece.
The Loa wall light has a sleek minimalist 3 Light design, offering a simplistic aesthetic that looks perfect in scandi or modernist interiors. It also comes in a stunning chrome finish and offers a sophisticated aesthetic when styled on either side of a bed.
Statement Dining Room Styling
Last but not least, the ultimate statement of grandeur, the dining room table light. As this light will be hung over the dining room table, or kitchen island, there is no need to worry about the drop height so much, even with low ceilings, allowing you creative freedom with your design and enabling you to add a little drama to your décor.
The Calvet Ceiling Pendant comes in a stunning black and copper finish for an industrial aesthetic and looks ideal when paired with our separately sold vintage filament light bulbs. This ceiling fixture is adjustable allowing you to position the bars any way of your choosing for an abstract geometric aesthetic, as well as being heritage inspired, looking perfect in rustic or farmhouse settings.
Is your Home the Centre of Attention?
We hope this blog helps you showcase the main attractions in your home with an extra touch of pizzazz thanks to our lighting. If you're looking for more top designer tips or want to read the latest in interior décor, head to our main BHS blog page to read our other articles.
Alternatively follow our social media @bhs_uk to get daily updates on featured products and sales, as well as gorgeous imagery from our photography studio and collaborations.