After a long, draining week, is there anything better than heading down to your local spa and treating yourself to a bit of 'you' time and relaxation? Spas are the perfect sanctuaries where you can fully relax and unwind. Letting you take some well-deserved time to close off and revitalise your mind, body, and soul.
Spas promote good health and well-being while being proven to help elevate the natural stresses of life. Not only does a spa give you that tranquil atmosphere we crave from time to time. They also help to keep skin looking smooth & radiant, help to improve blood flow and circulation, reduce headaches, and helps to relieve pain from the body. In turn, enhancing your sleep. While the body releases Serotonin and Dopamine, making you a happier person in general.
It is the above qualities, that many of us love the spa and why we are looking for cost-effective ways to create that same tranquil atmosphere and spa-like aesthetic in our own homes. I mean, as much as I love the spa being a mum with a full-time job, it doesn't leave much time to go out and spend time relaxing. Bringing that spa-like feeling into your home allows you to have that space at a time that works for you and your family. Giving you back some time while reaping the health benefits too.
Although this task may seem daunting, it is actually pretty simple to bring the aesthetic into your bathroom without breaking the bank. Lighting matters When we are looking at creating this space of tranquillity, the first thing to consider is your lighting and what is best for your room. Larger bathrooms will be able to incorporate different lighting layers. While smaller spaces may opt for more task lighting and accent lighting rather than styling large decorative lights. When we think of spa lighting, we think of 5 types of lighting: Ambient lighting, accent lighting, task lighting, decorative lighting, and natural lighting. The size, shape, and style of your bathroom are the things that will determine what will work best for you.
Below we have covered what types of lighting will work best within each of these sections to create that spa-like ambiance: -
• Ambient lighting
When you are considering what ambient lighting to get. Think recessed downlights, cove lighting, floor lamps, and simple ceiling fittings.
• Accent Lighting
When we talk about accent lighting, we mean the subtle lighting used to highlight any key areas. Shelf lights, picture lights, and track lights all work well as accent lighting.
• Task lighting
Task lighting is the lighting that we need to help complete vital tasks. Vanity lights, wall sconces, magnifying mirrors, and lamps are all suitable task lighting that works amazingly in a home spa.
• Decorative lighting
Creating a spa-like feel with decorative lighting allows you to be stylish and creative, with lighting that suits your style and personality. Think crystal chandeliers, decorative pendant lights, and flush fittings.
• Natural light
Although artificial lighting is an important factor when creating that tranquil sanctuary. Never underestimate the importance of natural lighting. Natural lighting is vital for allowing you to open up a space. Think large windows, skylights & light tubes.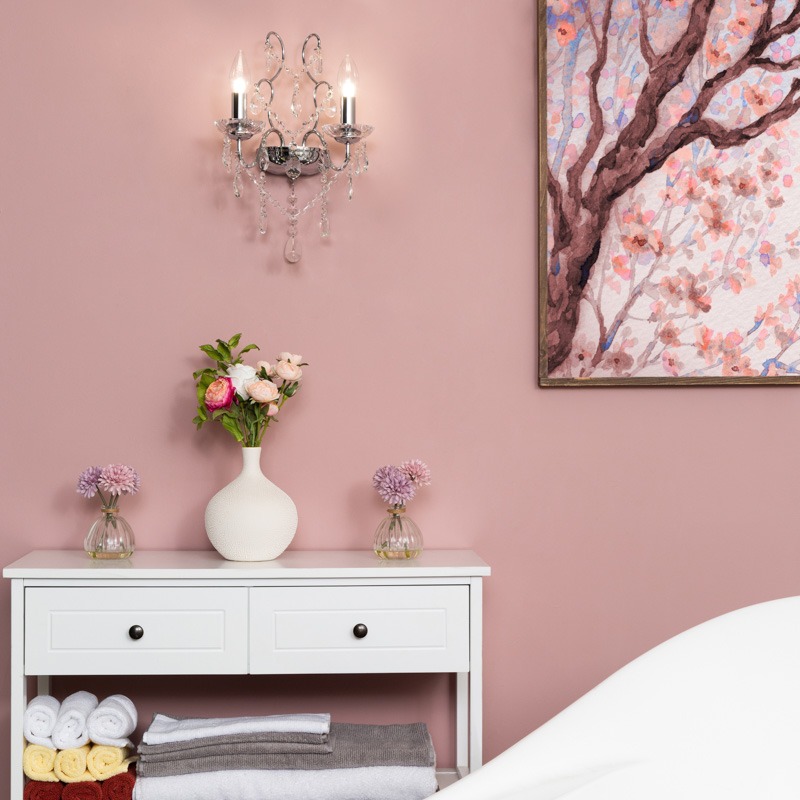 Now lighting is vitally important, but let's not forget the décor and accessories that will bring a spa-like feeling to your bathroom space. Below, we have listed our top tips to help you create that calming atmosphere you want. Helping you to relax and rejuvenate whenever you please: -
• Use all neutral décor within the bathroom space, helping to create a calm, and relaxed environment.
• Add potted plants onto shelves or around the edges of the floor (please keep in mind plants that thrive in humid conditions) Plants are great at helping to bring the outside indoors, bringing a subtle sense of nature.
• Remove any clutter from your space and incorporate plenty of storage. A messy, untidy room will not allow you to switch off your mind and relax.
• Roll towels so they can be stacked, in neat arrangements. While ensuring to keep all towels are soft, fluffy, and luxurious.
• Soften the hard floors of a bathroom with soft floor rugs. Not only do rugs stop you from getting cold feet they are also ideal for adding some character and cosiness into a space.
• Upgrade your shower head to a premium one that provides a powerful stream of water. You can even go all out and get ones with massaging qualities and multiple shower heads. The choice is yours.
• Use reflective surfaces around the bathroom. Think of large mirrors, chrome fittings and fixtures, and polished tiles. These surfaces work fantastic at creating that rejuvenating space that you desire.
• No spa is fully complete without the scents that come with it. Adding calming scents to your bathroom will help to give you that tranquil mood. Think aromatherapy scents like lavender, rosemary, and ylang-ylang. To create these scents, you can use oil diffusers, wax melts, scented candles, lotions, and soaps.
• Finally, to bring the spa alive in your home, opt for hanging eucalyptus in the shower. This will give you a fresh burst of eucalyptus fragrance every time you enter the bathroom.
We hope this blog has helped you gain some inspiration for creating a spa-like atmosphere in your home. For more up-to-date tips, head to our BHS blog and browse our selection of fantastic blogs. If this blog has inspired, you to bring the spa to your home. Why not get featured on our feed? Simply, tag us in pictures of your home spa on socials with @bhs_uk and use #BHSLights.