From Marie Kondo inspired hacks to Kim Kardashian's seamless décor, minimalism has dominated the interior design world for years and shows no signs of slowing down. In this blog we hope to give you all of our top tips on how you can bring some structured simplicity into your home with a serene "less is more" mantra.
Origins of Minimalism
Inspired by the New York Minimal Art Movement, based in the 1960s post WWII, the term minimalism began to trend as a result of modernism, a 20th century movement that expressed a desire for new forms of art and philosophy.
Minimalism interior design is often characterised by a stripped back aesthetic, with clean lines, geometric shapes, and a neutral colour palette. One of the key features of this style is emphasising the architectural aspects in your home by keeping a decluttered household decorated with only essential items.
Our range of Landon Easyfit shades come in small and large sizes and are available in a variety of neutral toned finishes. These shades perfectly complement a minimalist home, with their geometric design and layers of folding fabric offering an air of simplicity and a modern aesthetic. The easy fit function of this shade is also ideal for bringing a quick and easy update to your lighting.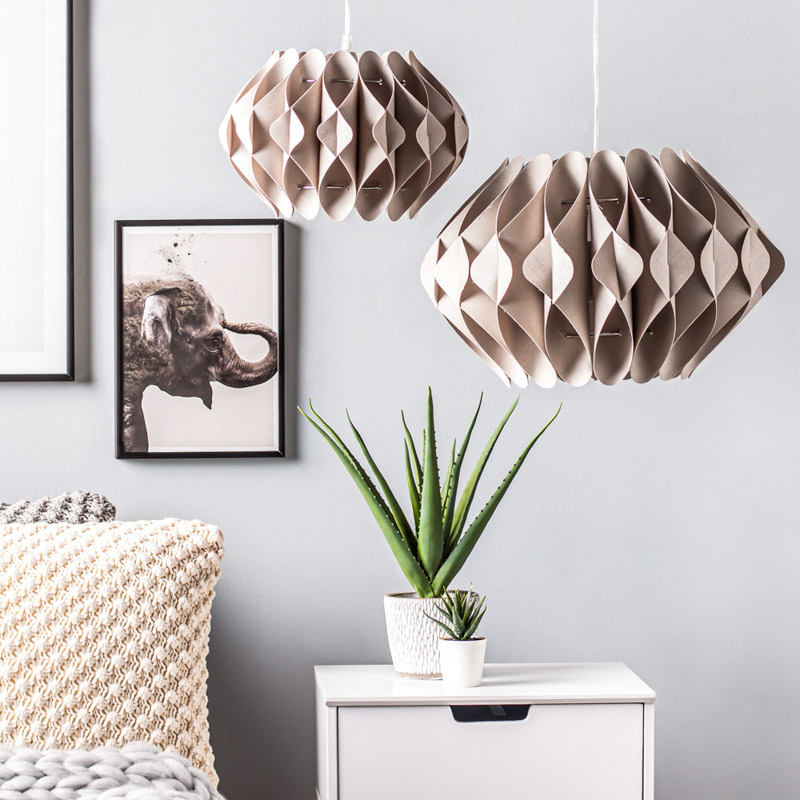 Take the minimalist look outdoors
Make the most of your outdoor spaces and take a minimalist approach to your garden and porch décor.  A lighter colour palette can make your outside areas look larger, think beige seating areas, white brick walls, and sandy coloured wood. Keeping everything cohesive and minimising on outdoor clutter will really bring the minimalist look to life, creating a relaxing garden retreat that will make your neighbours jealous and wow your guests.
For an ultra-modern vibe to your household, why not try a monochrome colour contrast? White walls with sleek anthracite lighting is the perfect way to really urbanise the outside of your home. The Penn LED Surface Brick Wall Light is the epitome of minimalism and is guaranteed to light your home in style. This wall light features a concealed LED strip that projects illumination downwards for a stunning spread of light across your wall and a seamless aesthetic. With an IP65 rating you can also be sure than this light is sufficiently water resistant and durable against most harsh outdoor weather conditions.
Luxe home décor accents
Minimalism is all about beauty in simplicity and sometimes even the most modest designs can attract the eye and encourage a feeling of luxury and sophistication. The key to recreating this feeling is high quality finishes and materials that subtly hint towards opulence. Singular statement pieces of furniture and home décor can achieve this perfectly, such as artwork, vases, and lighting.
Our Starr LED Ring Table Lamp makes a stunning accent light in any living room or bedroom. Adorned with an arrangement of crystal effect studs, this contemporary table lamp has the perfect balance of simplicity and glamour with a stylish ring design. The integrated LED shines through the crystal casing to create a sparkling effect that is sure to be a focal point in any room. The high shine chrome finish adds a gorgeous sheen to your décor for the ultimate modern minimalist appearance.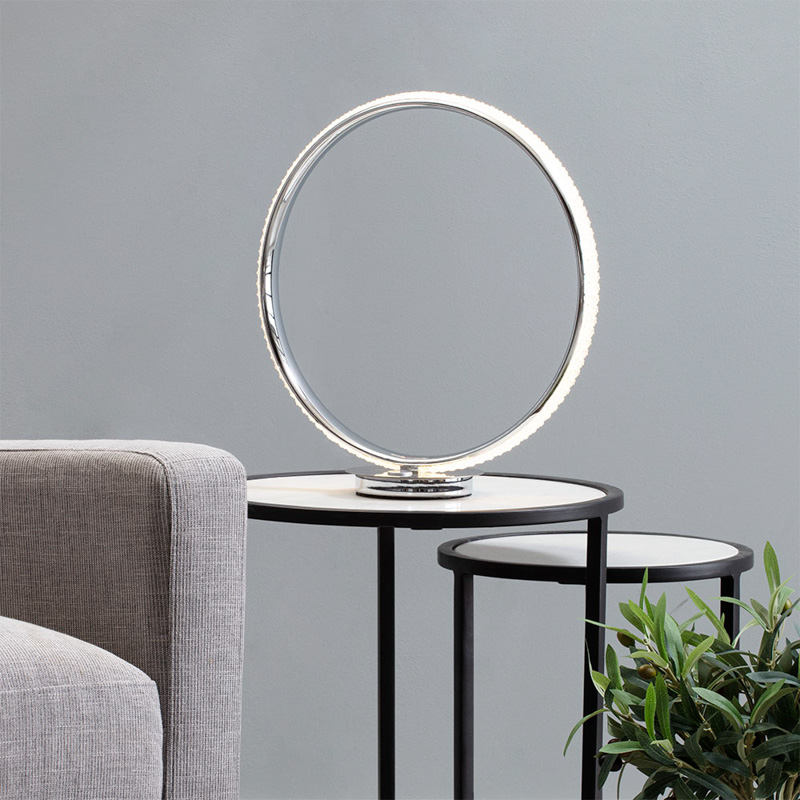 Instagram-worthy Minimalist Bathrooms
Minimalist bathrooms have taken social media by storm recently, as many of the looks can be achieved from home without having to pay a fortune for a brand-new bathroom. Simply decluttering and re-organising can make all the difference. One way you can do this is by making the most of your storage spaces, dividers in particular can help keep your cupboards and drawers neat and tidy, making room for all your toiletries so that your surfaces always look pristine.
Another way to create a minimalist aesthetic in the bathroom is through symmetry, if your bathroom has a centrepiece mirror, positioning a wall light on either side can create a harmonious and balanced look within the room. Our Skyla Crackle LED Wall Light is the perfect option for this look. Finished in a sleek chrome, the Skyla inspires a feeling of contemporary elegance within the room and comes with crackle glass shades that sparkle as the light shines out, creating a decadent appearance. This wall light is also completely suitable to be installed in the bathroom due to its IP44 rating, meaning that it is sufficiently water resistant.
Tidy House Tidy Mind
If you were looking for a sign to declutter your interior and update your home décor, we hope this blog has given you the inspiration you need to start living life to the max in a minimalist home.
Here at BHS, we love when you show us your amazing home designs so don't forget to tag us on Instagram @BHS_UK and use #BHSlights for the chance to be featured on our feed, stories and even newsletters.
Check out the main BHS blog page for regular updates on the latest trends or to browse our many other style guides and product recommendations for your home.