Summer is approaching fast and before we know it, and with a bit of luck, that warm weather will be back with a bang and we'll all be looking to get our gardens in tip-top condition so we can make the most out of the space through the day before the inevitable onslaught of rain returns far sooner than we'd want to imagine. You can maximise your time outdoors this summer with an injection of light to your gardens, helping the area to stay practical and welcoming once the sunlight fades away. There's a huge range of lighting available for use around your home so it can be a little confusing to start searching without the information you need to make the right decision – that's where we step in! We've compiled our top tips and our best picks below, so you'll be ready to get started on a new garden layout in no time!
Industrial Design
If you're trying to stay on-trend this summer, then it'll be impossible to look past industrial design – it's on the shelves in every store and has completely taken over the world of design, from wallpaper to furniture, lighting to accessories, everyone is looking to get in on the industrial theme! In our outdoor lighting range, we've got fittings that are perfect for this look, so here's a couple of our favourites:
Chelsea Curved Arm Wall Light
Chelsea is a wall light that's perfect for the industrial theme – a sleek, mechanical design that combines materials for a raw and authentic feel. This outdoor wall fitting is great as a porch light or beside a doorway, giving a practical glow to the surrounding space that helps you to see where you're going once the darkness sets in at the end of the day. Available in 3 different colours, the Chelsea curved arm wall light is a stylish piece that can fit into any household's designs.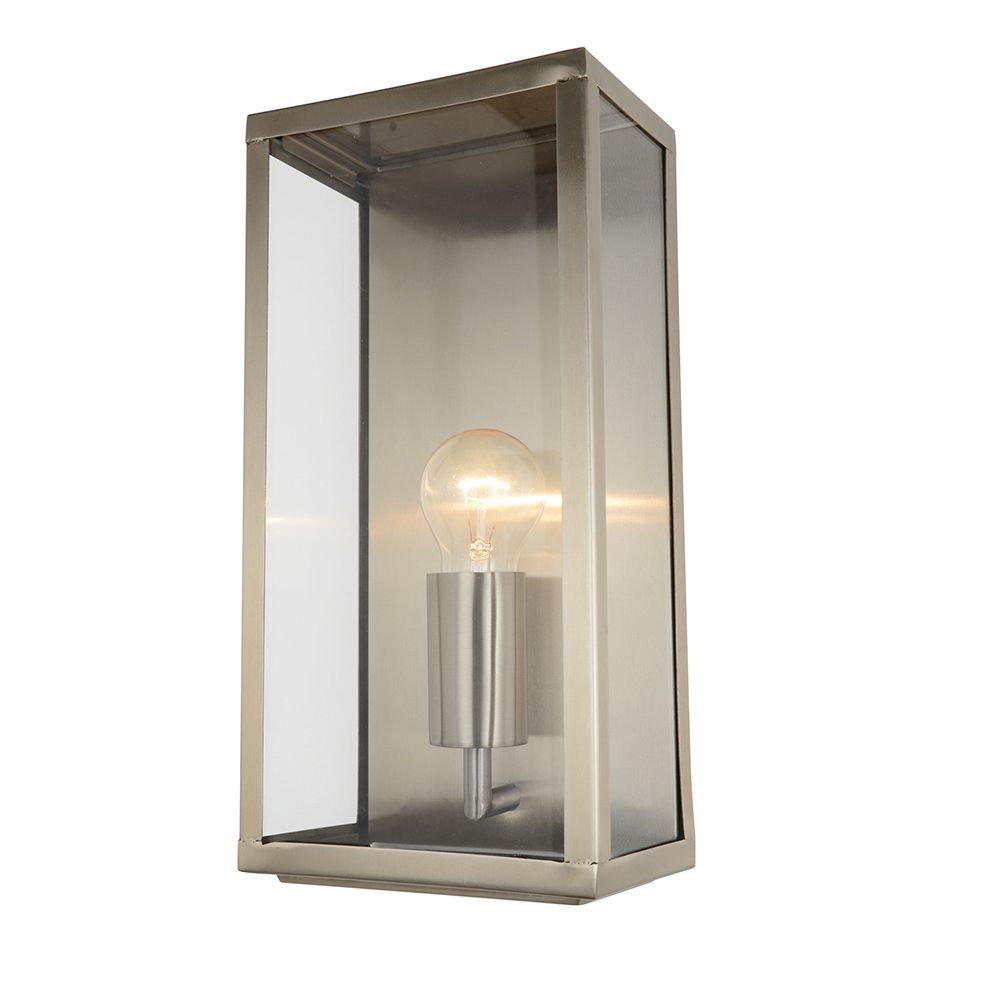 A more robust take on the industrial look, the Stratus wall light gives bold modern style to your home. This stylish wall light comes in 2 colours, black and stainless steel, so there are different options to suit any designs. The box-shaped fitting has an inner bulb holder that has a distinctive mechanical style, looking great when paired with a filament style bulb thanks to the exposed nature of the light.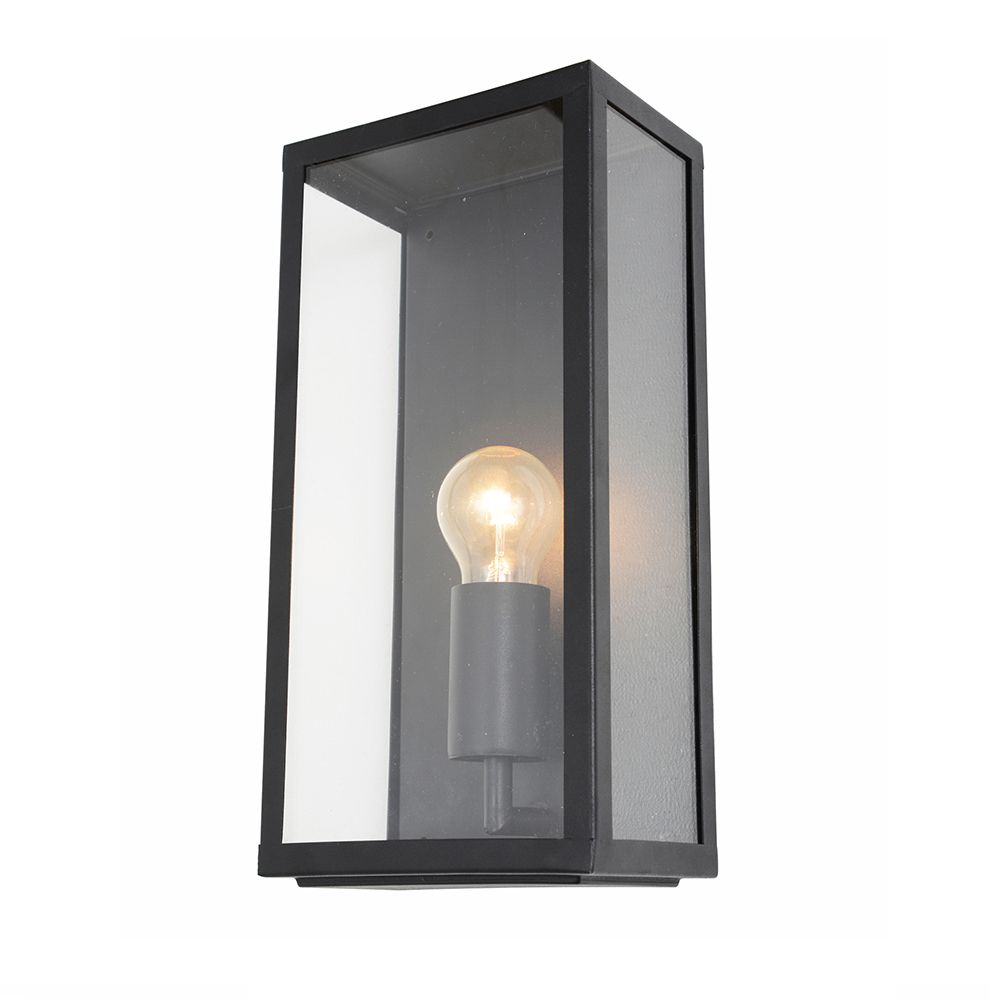 Contemporary Outdoor Lights
This is a style that'll always be fresh and popular, retaining a clean, modern image at all times. Contemporary outdoor lighting gives your home a trendy look at first glance and is a welcoming theme, creating a more homely and inviting feel for the household. Contemporary style is a theme that has its roots based in a simple, modern effect, maintaining an updated vibe across your home. The Etna wall light fits into this style perfectly, with crisp lines and a minimalistic design looking great in a contemporary setting. The light is ideal for illuminating a doorway but could also be used to give light to a path or patio so that you can utilise the space in a more effective way. Etna is available in 2 colours, anthracite and aluminium, with options as a 2 light up and down light or a single downlight to suit any purpose.
Alternatively, the Cinder wall light at BHS is another option for a contemporary outdoor lighting arrangement, with a slender black design and circular structure giving a smoother look to this simplistic piece. The light is also available as both an up and down lighter style and is finished in black for a versatile modern look that'll fit into any outdoor lighting setup. Pair these fittings beside a door for a stylish symmetrical effect!
Secure Your Home with Lighting
Perhaps the most popular use for outdoor lighting, security is a huge factor when deciding on a fitting to use in your home's external spaces. Having a light that increases your home's security will ensure that the household feels safe and comfortable, with the knowledge that you'll be able to identify any unexpected movement and activity around your home so you can identify the issue and take the necessary action as soon as possible. PIR lights are the ideal way to bring this to gardens, with their ability to sense movement and trigger the light to shine coming in incredibly useful in this scenario.
Our Jared up and down wall light combines this with a sleek, stylish modern cylinder design that looks great outside of the modern home, with a built-in PIR sensor making this light ideal for pathways and door. With this fitting, you'll get instant light whenever it's needed so you can save yourself from fumbling around trying to get the key in the lock when you get home in the dark. Check out this fixture in more detail at www.BHS.com/Jared!
BHS Blog
Hopefully, you'll now have found the perfect lights for your outdoor spaces and can start to bring together some fantastic designs ready for the summer, so let us know which of our lights caught your eye in the comments below!
You can keep on top of all the latest interior trends by regularly checking back on the BHS blog where we'll be looking to supply on-the-ball updates on all of the hottest seasonal looks!