Monochrome Interiors
If you're looking for a way to create a beautiful bold interior but co-ordinating colours isn't your forte, don't worry. With a monochromatic scheme you can add a modern flair without having to worry about which colours complement each other. A mix of tones and textures are all you need to design a clean, contemporary home that is flooded with stunning lighting by BHS.
Although the colour palette is limited, the opportunities certainly aren't. Whether you're seeking a dark moody space to retreat into after a long day or you're more of a minimalist looking for a bright and airy space, the blacks, whites, and greys that dominate this trend are the perfect tones to help you clear your mind and relax in your home.
Sleek Lines
With a monochrome scheme, it is important to accent your home décor by utilising shapes and textures. Smooth curves, straight edges and strong geometrical structures are all great things to look out for when selecting light fittings for your interiors.
The Bodhi Ceiling Light features an exposed bulb, creating a stripped back aesthetic that complements the simple undertones of the monochromatic trend. The bulb is encased within a square black frame which creates beautiful bold lines whilst projecting bright lighting within your home. This simple design reflects how this style exudes minimalism which is currently trending within the interior design world.
If you love this ceiling light but want to make more of a statement, you can go that extra step by introducing the Bodhi Cluster Ceiling Pendant Light into your home. With 5 lights instead of one, this ceiling light will create a bold centrepiece, perfect for over your dining table or dangling beautifully from your living room ceiling.
Lights, Camera, Action!
Our Lara Hollywood Style Bathroom Wall Light will leave you feeling like a movie star. Comprised of five bulbs cocooned within opal shades, this light will be the perfect choice for those beauty enthusiasts who want to get ready with soft lighting. The functional design of this wall lamp means that it can be fitted to most walls, however we recommend above a mirror to really get the Hollywood Star experience. The matte black base creates a contemporary aesthetic which will go hand in hand with a sleek monochrome interior.
Top to Bottom
From ceiling pendants to floor lamps, we have you covered. For a sophisticated look, we recommend our Axel Easyfit Shade. Paired with a hanging pendant, this shade is the perfect way to effortlessly add a touch of class to your interiors. The geometric design allows for the lightbulb to freely cast light within your home, creating beautiful shadows that will only be enhanced by a monochrome theme.
Monochrome interiors are all about focusing on the design elements that make your home pop. One light in particular that does that is the Morlie Task Floor Lamp. The unique upscaled take on the traditional table desk lamp design is a great way to add a contemporary aesthetic to your home. The sleek, black metal stand is perfect for adding details to a minimal colour scheme and will easily become a cool focal point in any room.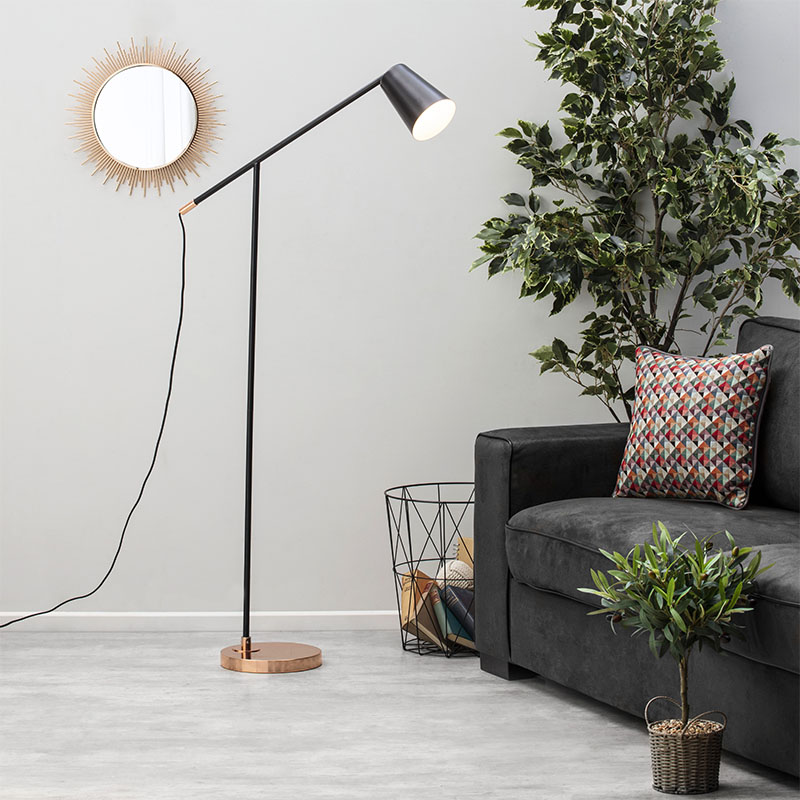 Mad about Monochrome
We adore this Monochrome trend, but if you feel like you're still missing that little bit of colour, why not try adding some greenery by bringing house plants into your home? Foliage is a great way to introduce a pop of colour whilst still keeping to a very minimal palette. You don't have to commit to a house plant as they can be moved around and often replaced, meaning they're an easy option to introduce a touch of colour without redecorating.
Here at BHS, we're passionate about keeping up with the latest interior trends and inspiring our customers to get the most out of their homes. After all, home is where the heart is. We're mad about monochrome and we hope that you are too! We love to see your style so remember to tag us on social media @bhs_uk and you might be featured on our story or feed. For more styling tips and to keep up with the latest lighting trends, check out our blog.