Along with the bedroom, the bathroom is a space where serenity is key – it's the space where you start and finish the day, so is the place where you'll need to be able to revitalize, reinvigorate, and relax when needed. For your bathroom to be able to do this, you'll need to make sure that you've tailored the space to have the right atmosphere and environment, which means taking the time to think logically and creatively about your bathroom designs. Lighting is an incredibly important part of this, offering a glow that will define the tone and mood of the space, so it's a fundamental feature that you simply MUST get right. We've compiled some of our favourite bathroom lights, which are all IP44 rated to ensure safety, and a few stylish accessories below, so check those out and let us know if any catch your eye!
Mid-Century Style
Our first décor theme to take a look at is the Mid-Century style, which takes a simplistic retro feel and gives it a modern makeover, creating an urban, on-trend image for any bathroom décor. We recommend a fitting from our IP44 rated Douro range if you're looking to bring Mid-Century into your bathroom, with the simple chrome fittings coming in a variety of shapes and sizes to suit any interior's needs. The flush 5 light fitting is great for low ceilings and gives a wider spread of light across a space, creating practical illumination for bathrooms, whereas the Douro Pendant light gives a bolder edge to your décor, giving a statement style to the room. Complete the look with the one light wall light for a softer, more ambient style of light that helps you to relax whilst enjoying a soothing bath.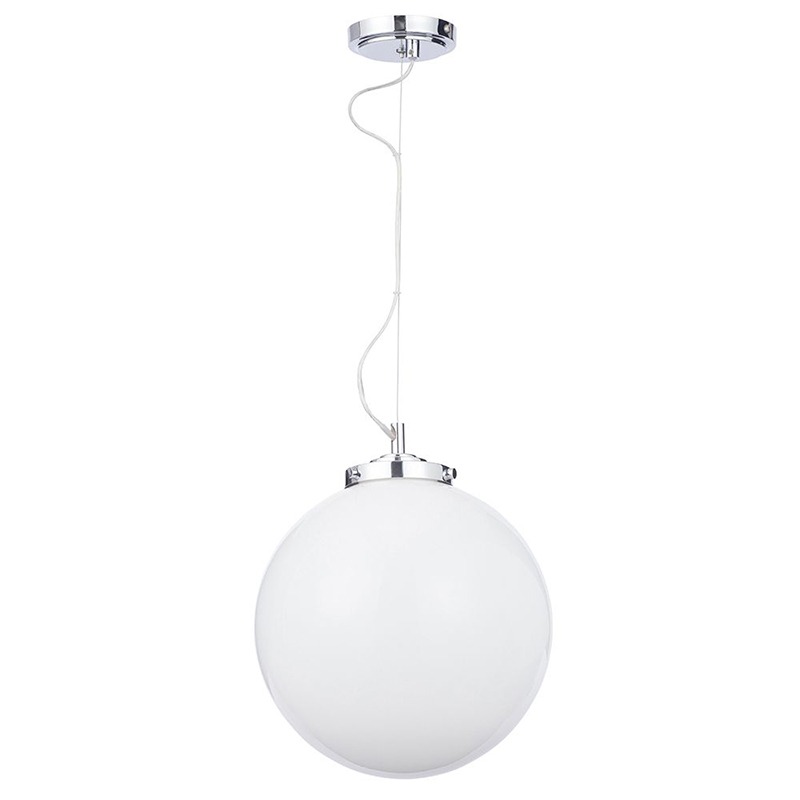 Glass Designs
For a more contemporary feel in your bathroom décor, one of our stylish glass designs could be the way to go, giving a sophisticated, updated look to your home. The glass look can give a simple, serene vibe to the bathroom, with the clear effect offering a cleaner, less cluttered feel to the space. Here are our two top picks:
Stellar Bubble LED Bathroom Spotlight Bar and Wall Light;
Stellar is one of our most modern designs, with a bubble effect glass giving a unique urban style to the fittings, whilst integrated LED light ensures that you're getting durable, energy efficient lighting in your home. Available as a 4 light spotlight bar and as a single wall spotlight, both of which can be found at www.BHS.com/Stellar, the IP44 rated fittings look great individually or as a pair, giving a rounded lighting theme to your bathroom that can create the perfect atmosphere for relaxing shower before bed, or an invigorating morning routine that leaves you ready to take on the day ahead!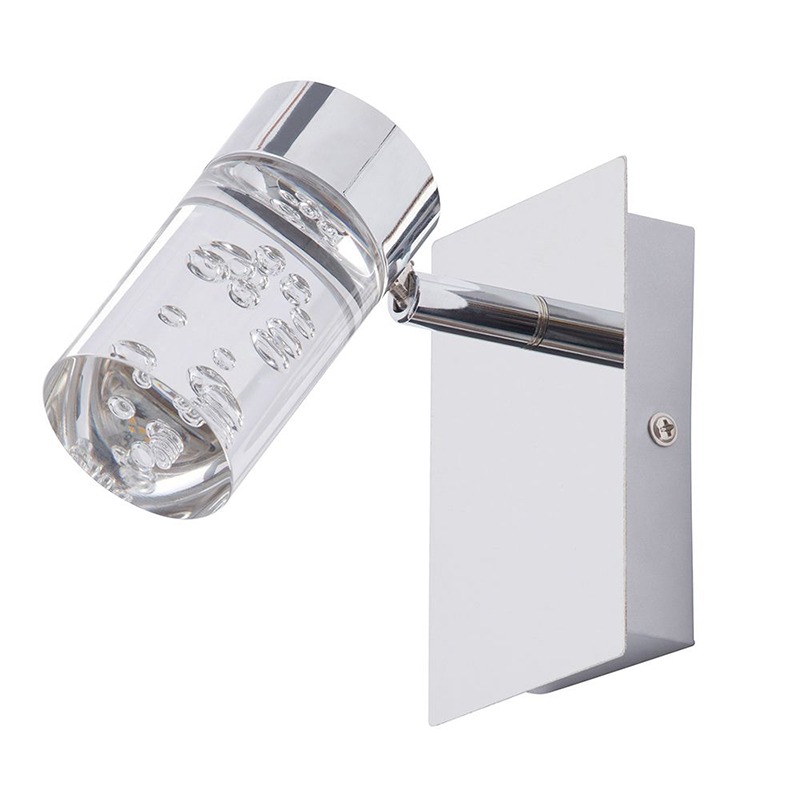 Martha Ceiling Lights
With our Martha bathroom lights you'll be able to create an on-trend contemporary theme in any bathroom space, with the flush style working well on any low ceilings, whilst the adjustable spotlight heads allow you to alter the light to shine towards the areas that need the light most. Available as a 3 light plate or as a single one light fitting, these IP44 rated spotlights are fantastic features for your modern bathroom décor.
Opulent elegance
If you're looking for a more elegant twist in your bathrooms arrangements, there's plenty of options available, so it's just a case of finding a style of fitting that suits the exact décor theme that you're looking to create! The classy feel that these lights give to a space is sure to create a more relaxed atmosphere in your bathroom interiors, creating the ideal environment to unwind inside of. Check out our top picks for opulent bathroom lighting below:
Daphne Collection
With the Daphne bathroom lighting collection you'll find perhaps our most traditionally elegant bathroom features, with arrangements of hanging crystal effect droplets giving an extra decorative edge to the fittings, which are all finished in a fresh chrome colour to ensure that they retain an updated modern look that's relevant in an urban setting. Available in 9 light pendant, 5 light chandelier, 3 light chandelier, and 2 light wall light sizes, there's sure to be a Daphne light fitting that's perfect for your bathroom spaces! Click here to take a look at the full selection of Daphne bathroom fittings.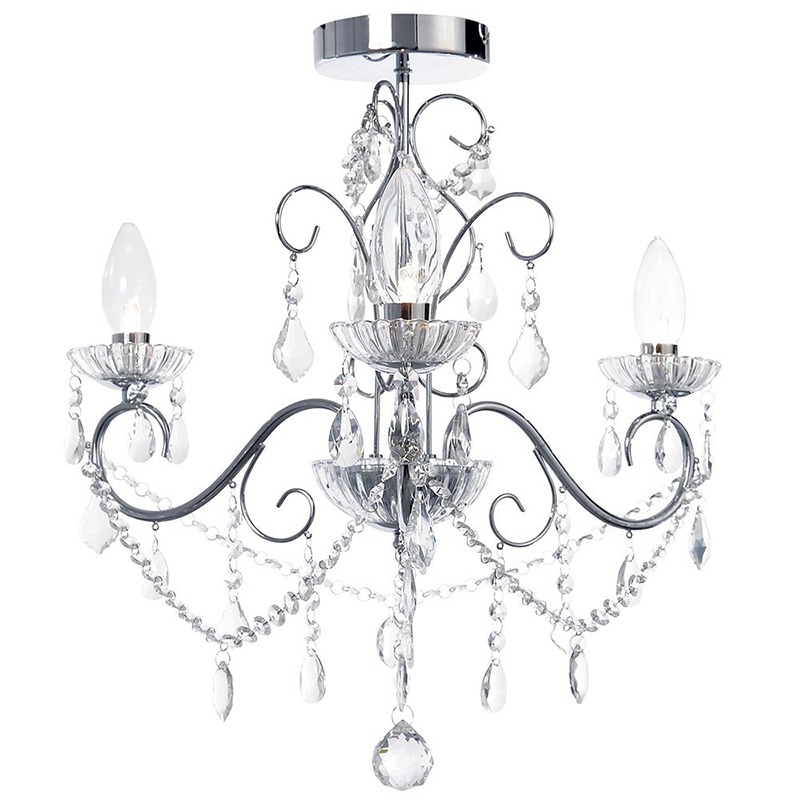 The Aurora ceiling lights are a bold, elegant additions to any modern bathroom spaces, with flush and pendant options available to suit any ceiling style! Both fittings utilise 4 light designs and tiered designs, giving a great shine across the room, with crystal droplet decoration offering a shimmer to the light for a truly mesmerising look. The flush fitting is perfect for low ceilings, giving high-end style and practical lighting to any space, whilst the chandelier is an ideal statement piece for a bathroom décor. These fittings are also IP44 rated, so you don't have to worry about them not being safe for bathroom use.
Using Accents to Complete the Look
In the bathroom there's one accent feature that rules all – towels! Your towels don't have to be purely functional, they can also add to the aesthetic of a bathroom décor, offering a sophisticated tone or a bright pop of colour to the space without being too overpowering or looking out of place. The BHS towels collection offers 2 different styles of towel, Cord and Ultra-Soft, and each of these comes in a huge variety of colours so there's sure to be an ideal piece for your home. The Cord towels are simple, effective, and durable, whereas our Ultra-Soft towels add a little touch of class to your bathroom, with a soft, luxurious feel. The Cord towels are available in white, sorbet, navy, mint, dark grey, and brick colours and the Ultra-Soft are available in grape, bright aqua, cream, stone, soft pink, bluebell, tangerine, bright blue, slate, truffle, dove grey, and white colours, so there's sure to be a towel in our range that is a perfect fit for your designs!
More from BHS.com
Hopefully this will have helped you on your way to creating a fantastic bathroom décor that suits your tastes to a tee! Let us know which of our bathroom features caught your eye in the comments section and be sure to keep updated on the latest trends over on The British Home Store Blog!